Moving Out Cleaning in Singapore
Our Moving In / Out Cleaning is a thorough cleaning done before you move in to your new home or when you are returning the apartment to your landlord after tenancy. This usually refers to an empty apartment without any furniture. However, take note that this would not include post-renovation cleaning as part of its scope.
The main differences between our Moving In / Out Cleaning and General House Cleaning are:
Little or no furniture in the premise.
We do not clean interior of cabinets and wardrobes for General House Cleaning but we would do that for Moving In / Out Cleaning so long they are empty.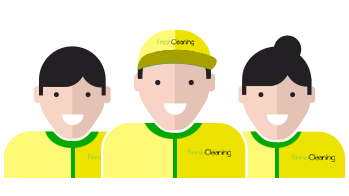 MOVING OUT CLEANING

HDB Size
Length
Price
Book Now
2 Bedroom HDB / 400 - 599 SQFT
5 hours
$198
2 Bedroom HDB / 600 - 799 SQFT
7 hours
$275
3 Bedroom HDB / 800 - 999 SQFT
9 hours
$340
4 Bedroom HDB / 1000 - 1199 SQFT
11 hours
$408
5 Bedroom HDB / 1200 - 1399 SQFT
13 hours
$470
Maisonette / 1400 - 1899 SQFT
17 hours
$595
| | | | |
| --- | --- | --- | --- |
| Condo/Apartment Size | Length | Price | Book Now |
| 1 Bedroom Studio / 400 - 599 SQFT | 6 hours | $230 | |
| 2 Bedroom / 600 - 799 SQFT | 8 hours | $316 | |
| 2 Bedroom / 800 - 999 SQFT | 10 hours | $385 | |
| 3 Bedroom / 1000 - 1199 SQFT | 12 hours | $448 | |
| 4 Bedroom / 1200 - 1399 SQFT | 14 hours | $506 | |
| Penthouse / 1400 - 1899 SQFT | 19 hours | $649 | |
Note:
hours = man hours
Price stated in the table are indicative subject to condition and layout of the house
Price are inclusive of all cleaning equipment, kit and supplies
Additional per man hours are charged at $25 (Weekday: Monday – Friday between 8am – 6pm)
Additional per man hours are charged at $30 (Weekday: Monday – Friday after 6pm & Weekend: Saturday, Sunday and Public Holiday)
Recommended for:
Returning unit to landlord
Hand over unit to new home owner